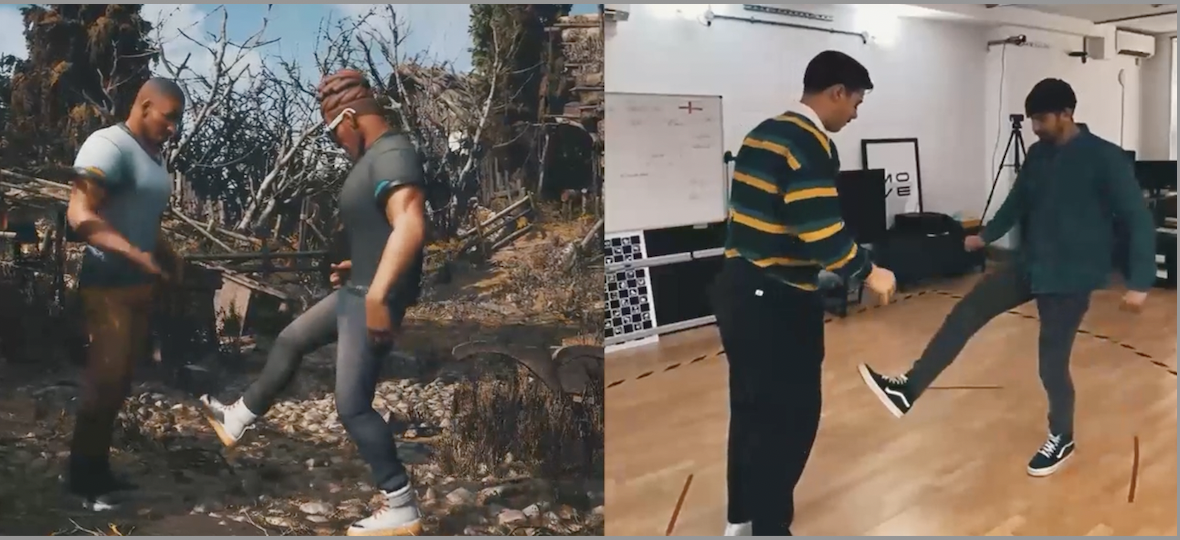 This week, we highlight some time-saving examples for generating 3D models using – you guessed it – AIs, and we also take a look at some recent developments in motion tracking for creators.
3D Modelling
All these examples highlight that generating a 3D model isn't the end of the process and that once its in Blender, or another animation toolset, there's definitely more work to do. These add-ons are intended to help you reach your end result more quickly, cutting out some of the more tedious aspects of the creative process using AIs.
Blender is one of those amazing animation tools that has a very active community of users, and of course, a whole heap of folks looking for quick ways to solve challenges in their creative pipeline. We found folks that have integrated OpenAI's ChatGPT into using the toolset by developing add-ons. Check out this illustration by Olav3D, whose comments about using ChatGPT for attempting to write Python scripts sum it up nicely, "better than search alone" –
Dreamtextures by Carson Katri is a Blender add-on using Stable Diffusion which is so clever that it even projects textures onto 3D models (with our thanks to Krad Productions for sharing this one). In this video, Default Cube talks about how to get results with as few glitches as possible –
and this short tells you how to integrate Dreamtextures into Blender, by Vertex Rage –
To check out Dreamtextures for yourself, you can find the Katri's application on Github here and should you wish to support his work, subscribe to his Patreon channel here too.
OpenAI also launched its Point-E 3D model generator this month, which can then be imported into Blender but, as CGMatter has highlighted, using the published APIs takes a very long time sitting in cues to access the downloads, whilst downloading the code to your own machine to run it locally, well that's easy – and once you have it, you can create point-cloud models in seconds. However, he's running the code from Google's CoLab, which means you can run the code in the cloud. Here's his tutorial on how to use Point-E without the wait giving you access to your own version of the code (on Github) in CoLab –
We also found another very interesting Blender add-on, this one lets you import models from Google Maps into the toolset. The video is a little old, but the latest update of the mod on Github, version 0.6.0 (for RenderDoc 1.25 and Blender 3.4) has just released, created by Elie Michel –
We were also interested to see NVIDIA's update at CES (in January). It announced a release for the Omniverse Launcher that supports 3D animation in Blender, with generative AIs that enhance characters' movement and gestures, a future update to Canvas that includes 360 surround images for panoramic environments and also an AI ToyBox, that enables you to create 3D meshes from 2D inputs. Ostensibly, these tools are for creators to develop work for the metaverse and web3 applications, but we already know NVIDIA's USD-based tools are incredibly powerful for supporting collaborative workflows including machinima and virtual production. Check out the update here and this is a nice little promo video that sums up the integrated collaborative capabilities –
Tracking
As fast as the 3D modelling scene is developing, so is motion tracking. Move.ai which launched late last year, announced its pricing strategy this month at $365 for 12 months of unlimited processing of recordings – this is markerless mocap at its very best, although not so much if you want to do live mocap (no pricing strategy announced yet). Move.ai (our feature image for this article) lets you record content using a mobile phone (a couple of old iPhones). You can find out more on its new website here and here's a fun taster, called Gorillas in the mist, with ballet and 4 iPhones, released in December by the Move.ai team –
And another app although not 3D is Face 2D Live, released by Dayream Studios – Blueprints in January. This tool allows you to live link a Face app on your iPhone or iPad to make cartoons, including with your friends also using an iPhone app, out of just about anything. It costs just $14.99 and is available on the Unreal Marketplace here. Here's a short video example to wet your appetite – we can see a lot of silliness ensuing with this for sure!
Not necessarily machinima but for those interested in more serious facial mocap, Weta has been talking about how it developed its facial mocap processes for Avatar, using something called an 'anatomical plausible facial system'. This is an animator centric system that captures muscle movement rather than 'facial action coding' which focusses on identifying emotions. Weta stated its approach leads to a wider set of facial movements being integrated into the mocapped output – we'll no doubt see more in due course. Here's an article on the FX Guide website which discusses the approach being taken and for a wider ranging discussion on the types of performance tracking used by the Weta team, Corridor Crew have bagged a great interview with the Avatar VFX supervisor, Eric Saindon here –