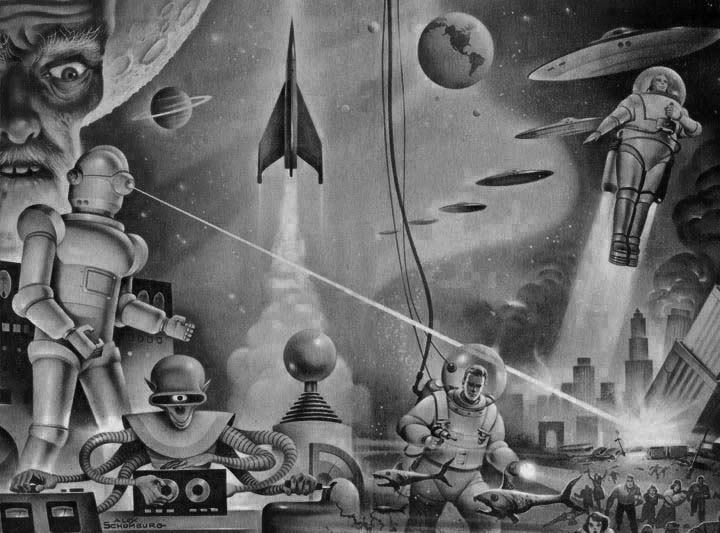 And Now For Something Completely Machinima is a podcast devoted to machinima (movies made in game engines). This month (May 2021) we are splitting our podcast into four sections which will post once a week: Machinima News (May 6), Machinima Films (May 13), Machinima Discussion (May 20) along with several interviews which we will publish separately throughout the month.
This episode was produced by Damien Valentine who is joined by hosts Ricky Grove, Phil Rice, and Tracy Harwood.
Contact and Feedback for this show: https://completelymachinima.com/#talk
The complete transcript of the episode is available at our Buzzsprout podcast page for this episode here.

Summary: Two questions for the group – one, why has science fiction been such a popular genre for machinima, and two, what are some of the game platforms that are available for scifi machinima creation. Also, Ricky shares a list of great scifi machinima.
Timestamps
00:00:38 Ricky on SciFi in Machinima
00:05:35 Tracy on Scifi in Machinima
00:06:12 Phil on SciFi in Machinima
00:14:37 Phil on BioShock
00:17:00 Damien on Babylon 5 series same gender love
00:21:38 Tracy on Peter Rasmussen
00:24:54 Ricky's List of great scifi machinima
00:28:43 Damien on good games for scifi machinima
00:33:33 Tracy on AI based restoration of video. Should we restore old machinima films?
00:37:52 Phil on old games and restoration
00:44:46 Ricky on Microsoft 3D filmmaker and the Gman actor
LINKS
https://robertsspaceindustries.com/
https://store.steampowered.com/app/6020/STAR_WARS_Jedi_Knight__Jedi_Academy/
STAR WARS: JEDI ACADEMY MODS
https://store.steampowered.com/app/32470/STAR_WARS_Empire_at_War__Gold_Pack/
STAR WARS: EMPIRE AT WAR STEAM WORKSHOP
https://steamcommunity.com/app/32470/workshop/jk
LUMIERE BROS COLORIZED SNOWBALL FIGHT
BLOODSPELL MYHERITAGE SCREENCAP
Alongside our films and discussion, this month Damien also had the chance to speak to Mark Meer, aka the voice of Commander Shepherd in the Mass Effect game. Here's the interview.
And, Damien spoke with the cinematic designer at Bioware, Ashley Ruhl. Here's the interview.