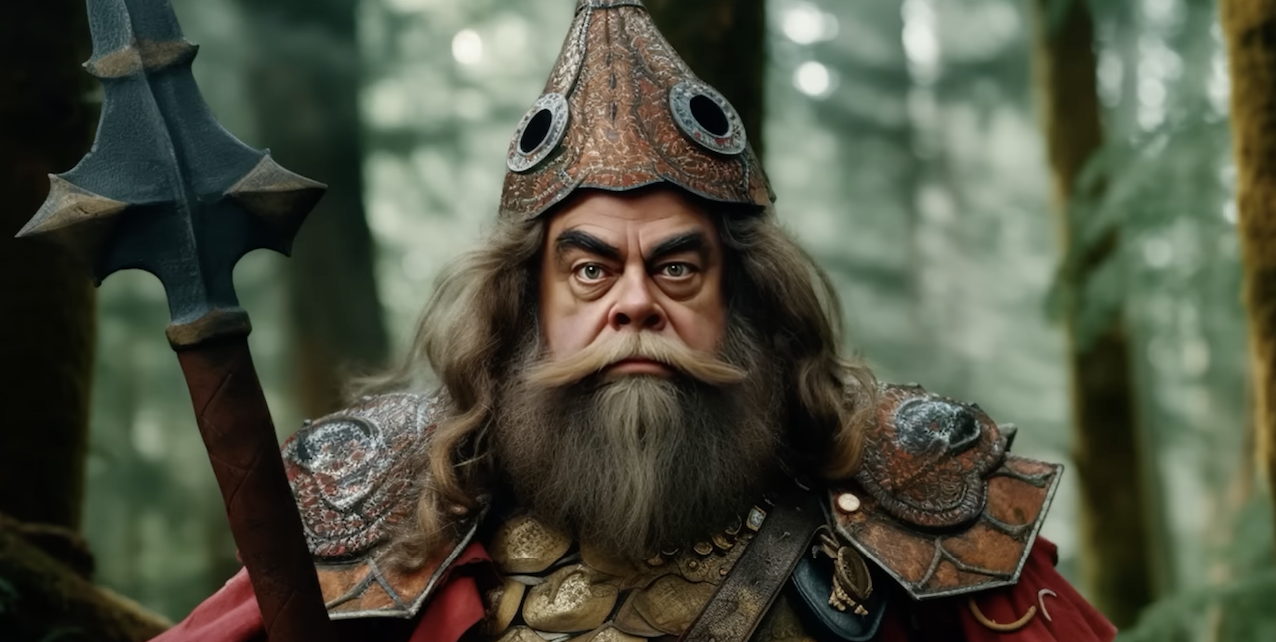 In comparison to the previous six months, the past month has not exactly been a damp squib but it has certainly revealed a few rather under-whelming releases and updates, notwithstanding Adobe's Firefly release. We also share some great tutorials and explainers as well as some interesting content we've found.
Next Level?
Nvidia and Getty have announced a collaboration that will see visuals created with fully licensed content, using Nvidia's Picasso model. The content generation process will also enable original IP owners to receive royalties. Here's the link to the post on Nvidia's blog.
Microsoft has released its Edge AI image generator, based on OpenAI's DALL-E generator, into its Bing chatbot. Ricky has tried the tool and comments that whilst the images are good, they're nowhere near the quality of Midjourney at the moment. Here's an explainer on Microsoft's YouTube channel –
Stability AI (Stable Diffusion) has released its SDK for animation creatives (11 May). This is an advancement on the text-to-image generator, although of course we've previously talked about similar tools, plus ones that advance this to include 3D processes. Here's an explainer from the Stable Foundation –
RunwayML has released its Gen 1 version for the iPhone. Here's the link to download the app. The app lets you use a video from your roll to apply either a text prompt or a reference image or a preset to create something entirely new. Of course, the benefit is that from within the phone's existing apps, you can then share on social channels at your will. Its worth noting that at the time of writing we and many others are still waiting for access to Gen 2 for desktop!
Most notable of the month is Adobe's release of Firefly for AdobeVideo. The tool enables generative AI to be used to select and create enhancements to images, music and sound effects, creating animated fonts, graphics and fonts and b-roll content – and all that, Adobe claims, without copyright infringements. Ricky has, however, come across some critics who say that Adobe's claim that their database is clean is not correct. Works created in Midjourney have been uploaded to Adobe Stock and are still part of its underpinning database, meaning that there is a certain percent (small) of works in the Adobe Firefly database that ARE taken from online artist's works. Here's the toolset explainer –
Luma AI has released a plug-in for NeRFs in Unreal Engine, a technique for capturing realistic content. Here's a link to the documentation and how-tos. In this video, Corridor Crew wax lyrical about the method –
Tuts and Explainers
Jae Solina aka JSFilmz has created a first impressions video about Kaiber AI. This is quite cheap at $5/month for 300 credits (it seems that content equates to appx 35 credits per short vid). In this explainer, you can see Jae's aged self as well as a cyberpunk version, and the super-quick process this new toolset has to offer –
If you're sick to the back teeth of video explainers (I'm not really), then Kris Kashtanova has taken the time to generate a whole series of graphic novel style explainers (you may recall the debate around her Zarya of the Dawn Midjourney copyright registration case a couple of months back) – these are excellent and somehow very digestible! Here's the link. Of course, Kris also has a video channel for her tutorials too, latest one here looks at Adobe's Firefly generative fill function –
In this explainer, Solomon Jagwe discussed his beta test of Wonder Studio's AI mocap for body and finger capture although its not realtime unfortunately. This is however impressive and another tool that we can't wait to try out once its developoer gets a link out to all those that have signed up –
Content
There has been a heap of hype about an advert created by Coca Cola using AI generators (we don't know which exactly) but its certainly a lot of fun –
In this short by Curious Refuge, Midjourney has been used to re-imagine Lord of the Rings… in the style of Wes Anderson, with much humor and Benicio del Toro as Gimli (forever typecast and our feature image for this post). Enjoy –
We also found a trailer for an upcoming show, Not A Normal Podcast, but a digital broadcast where it seems AIs will interview humans in some alternative universe. Its not quite clear what this will be, but it looks intriguing –
although it probably has a way to go to compete with the subtle humor of FrAIsier 3000, which we've covered previously. Here is episode 4, released 21 March –